Katharine Hepburn Portrait donated by Miss Hepburn
Donations: The Saybrook Colony Legacy Guild
We are grateful for the legacy gift to the Society from the estate of William E. Phillips, devoted member and benefactor
The Old Saybrook Historical Society is the caretaker of the documentation of one of America's earliest settlements, dating from 1635. The Saybrook Colony Legacy Guild has been created to provide long-term support for the research, preservation and maintenance of the heritage of Old Saybrook.
Why become a member of the Saybrook Colony Legacy Guild?
Your bequests are your final guideposts for family and friends – they reveal to those you leave behind your core values and your hope for your community.
Our state-of-the-art Archives are a treasure trove for genealogists, students and area visitors. The thousands of historical documents we collect and catalogue include journals, letters, newspapers, books, photographs and films. The General William Hart House and Gardens complete our campus that is a destination for history buffs and botanists. The museum house features architecturally unique elements such as eight fireplaces, and period furnishings including Lady Fenwick's chair. Our award-winning Gardens showcase early American plantings such as Moneywort, Lamb's Ear and Sweet Alyssum.
As a member of the Saybrook Colony Legacy Guild, you will help assure that future generations know, experience and appreciate this special place that began as Saybrook Colony. Gifts can be in the form of cash, securities, real property or treasured objects from your estate.
Please inform us if the Old Saybrook Historical Society has already been included in your Will, Trust or Estate Plan.
Name(s)________________________________________________________________
Address_________________________________________________________________
Phone___________________________________________________________________
If you wish, please briefly describe your gift to the Saybrook Colony Legacy Guild. All information will be kept confidential.
Please print and mail to: Saybrook Colony Legacy Guild, Old Saybrook Historical Society, PO Box 4, Old Saybrook, CT 06475
Did you know the Old Saybrook Historical Society can accept donations from your IRA? 
If you are 70 1/2 or older, you may transfer any amount, up to $100,000, directly to the Old Saybrook Historical Society. This is referred to as a Qualified Charitable Distribution.
This gift could fulfill some or all your Required Minimum Distribution reducing your income and thus your Federal and Connecticut income taxes.  This is the perfect charitable gift for individuals who can't claim itemized deductions anymore because of recent tax law changes.
For more information please calls us at 860-395-1635 or email us at contact@saybrookhistory.org.
The James Family Documentary Project Fund, under the Community Foundation of Middlesex County, received a $17,500 grant from the Ct. Humanities Council to help continue the project toward the completion of an hour documentary on this special family. Our Board of Trustees committed to assisting with this initiative and, as part of this grant, the team will be reviewing "the trove of newsreels and VHS tapes owned by OSHS. The Beebe collection covers the period when Anna Louse James was operating the pharmacy and Ann Petry was living and writing in OS. The producers intend to digitize a selection to be used in film", Liz Petry, project chair.  Spent 2 days reviewing the films in the Archives on September 6 & 9, 2019.
Donations & Gifts, FY 2019
Print of the Powder Horn
The original print by Rufus Grider is in a "hidden collection" at the NYHS in New York city.  The only copy was donated by Pamela Vittorio who purchased the rights to reproduce the image from the New York Historical Society.
— Pamela Vittorio is an associate professor at the New School, historian, linguist, professional genealogist and direct descendant of Oliver Graham.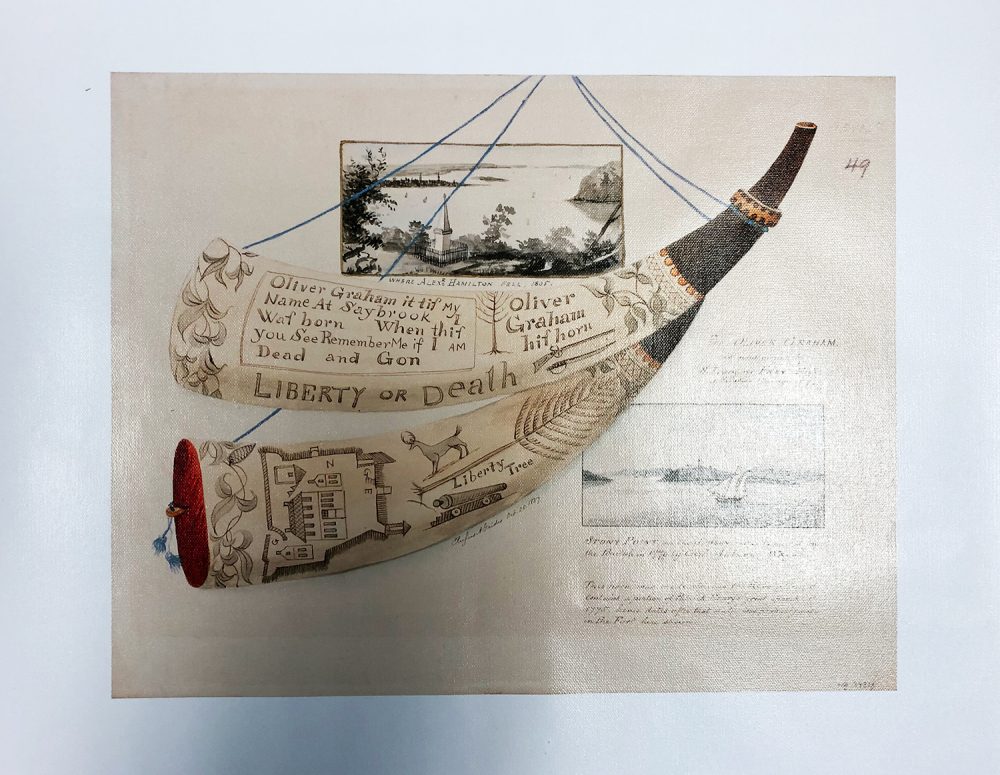 Donations & Gifts, FY 2018
The Society received a $3,500 donation from a direct descendant of Robert Chapman for our next project, the sinking brick walkway, surrounding the sunken milestone, that is the entrance to the gardens from the Exhibit Gallery kitchen.  All bricks have to be removed to fix the problem of drainage, etc.  This is a restricted fund and we welcome other donations for this wonderful project.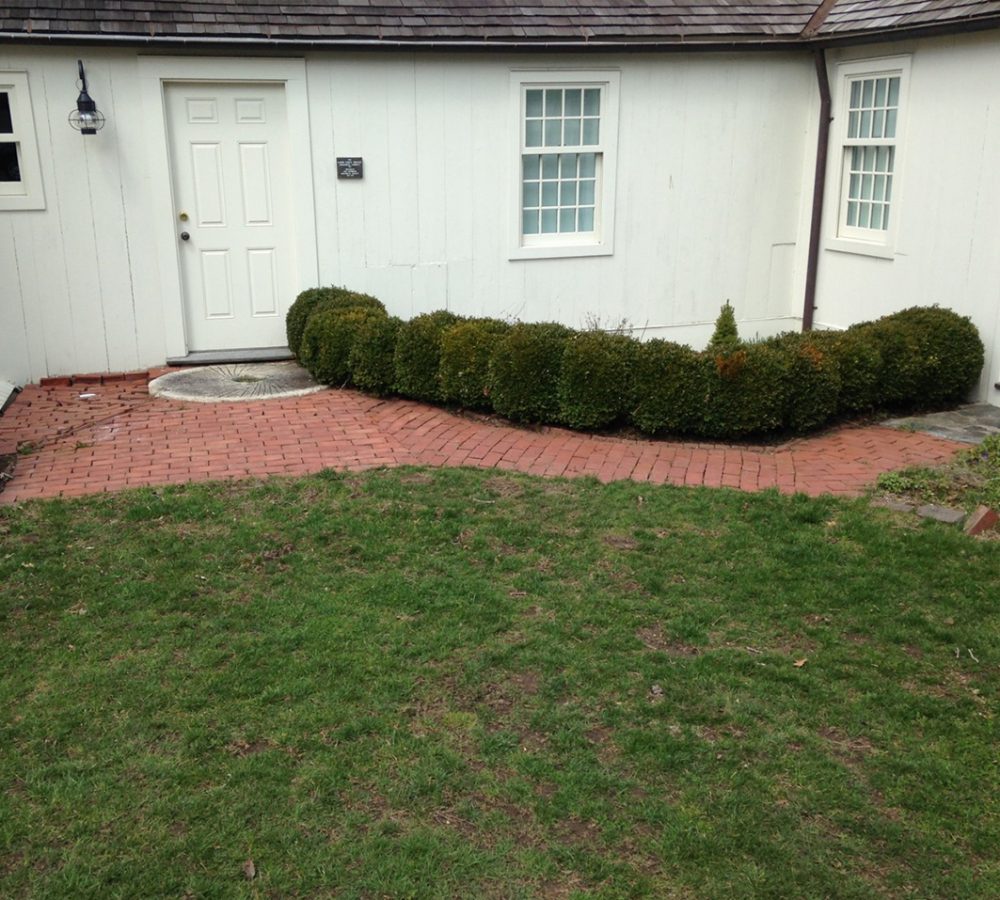 Donations & Gifts, FY 2017
The Society is grateful to the following members for the $15,000 donations to complete the matching funds to apply for a 1772 Foundation Grant to restore all 32 windows in the Hart House:
Window Matching Grant enabled the Society to receive a $12,000 matching grant for Hart House window restoration from the 1772 Foundation working the Ct. Trust for Historic Preservation.  David and Marie McFarlin, Arlene and Steve Sakatos, Tedd and Carol Levy, Wayne and Barbara Harms, Sally and Robert Boody, Sally and Sal D'Aquila, Ken and Aurelie Lewis, a Direct Descendant of Robert Chapman (who wishes to remain anonymous), Marge Anderson Legacy Funds, William E. Phillips and Barbara Smith, Linda Kinsella in memory of her husband George "Pete" Kinsella, friends and family of deceased member and volunteer Drinagh Garafulo.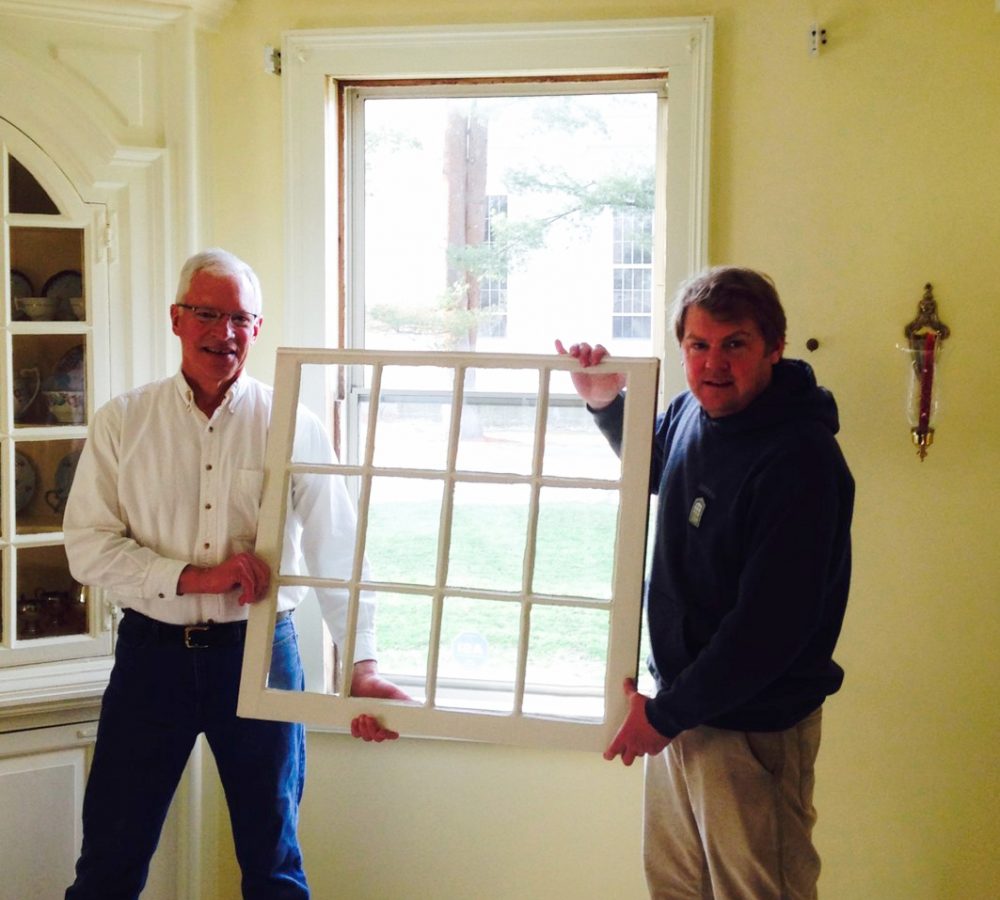 New shed courtesy of William Childress and a direct descendant of Robert Chapman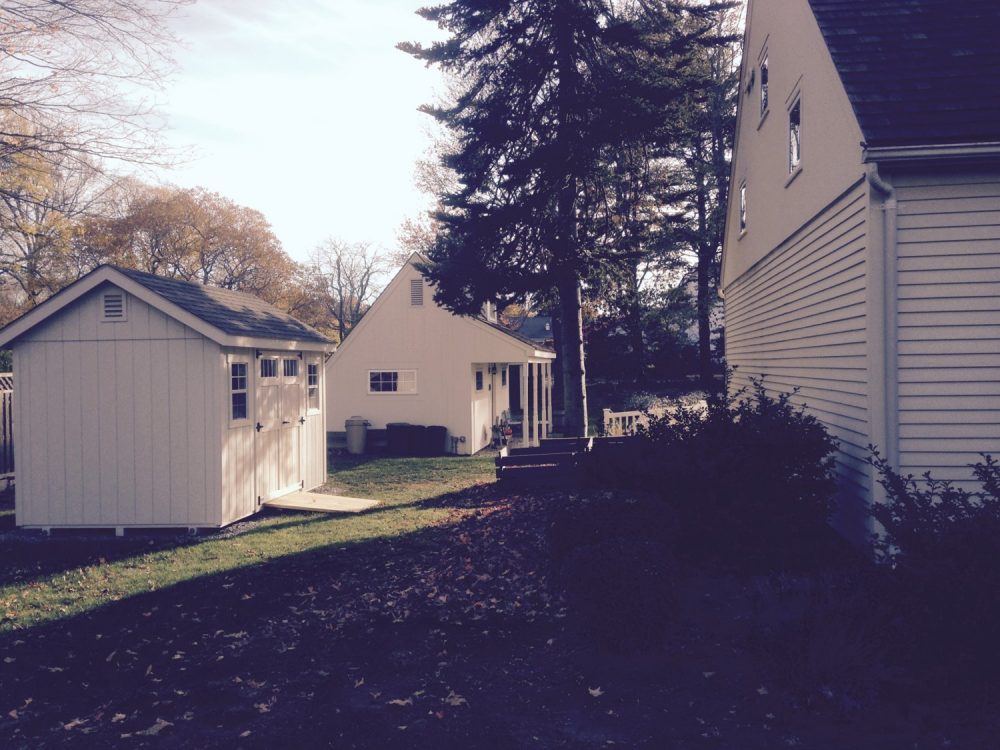 Portrait of Elisha Hart Younger Brother of General William Hart
Marek Sarba, the artist and Old Saybrook resident who painted the portrait of General William Hart (below) , also has painted a beautiful portrait of General Hart's younger brother, Elisha, that he has also donated to the Old Saybrook Historical Society.  The beautiful portrait is hung over the fireplace in the dining room of the Hart House.  Elisha was the father of the seven daughters renowned for their "beauty" and energy.  Elisha and his family lived next door to his parents, Reverend and Mrs. William Hart, near the properties now occupied by the St. John's Catholic Church and Rectory on Main Street.
Portrait of General William Hart
Marek Sarba, an artist and resident of Old Saybrook, at our annual meeting, presented a portrait of General William Hart that he painted for the Society. It was after his first visit to the Hart House this summer that he decided to research and use his talents to do this and gift to our organization. He traveled to the Wadsworth Atheneum to view the small locket that shows the only known likeness of William. His gift is a wonderful work of art. As he spoke to the members, he stressed the importance of history and his admiration for the work of the Society and all its volunteers. Marek's paintings are on display at Mystic Seaport's Maritime Gallery, the Historical Society of Maryland, Mariner's Museum in Newport News, VA, Merchant Marine Museum in Kings Point New, NY, Great Lakes Historical Society, etc. We are thrilled with this special gift.