Katharine Hepburn Portrait donated by Miss Hepburn
Donations: The Saybrook Colony Legacy Guild
We are grateful for the 2019 legacy gift to the Society from the estate of William E. Phillips, devoted member and benefactor.
The Old Saybrook Historical Society is the caretaker of the documentation of one of America's earliest settlements, dating from 1635. The Saybrook Colony Legacy Guild has been created to provide long-term support for the research, preservation and maintenance of the heritage of Old Saybrook.
Why become a member of the Saybrook Colony Legacy Guild?
Your bequests are your final guideposts for family and friends – they reveal to those you leave behind your core values and your hope for your community.
Our state-of-the-art Archives are a treasure trove for genealogists, students and area visitors. The thousands of historical documents we collect and catalogue include journals, letters, newspapers, books, photographs and films. The General William Hart House and Gardens complete our campus that is a destination for history buffs and botanists. The museum house features architecturally unique elements such as eight fireplaces, and period furnishings including Lady Fenwick's chair. Our award-winning Gardens showcase early American plantings such as Moneywort, Lamb's Ear and Sweet Alyssum.
As a member of the Saybrook Colony Legacy Guild, you will help assure that future generations know, experience and appreciate this special place that began as Saybrook Colony. Gifts can be in the form of cash, securities, real property or treasured objects from your estate.
Please inform us if the Old Saybrook Historical Society has already been included in your Will, Trust or Estate Plan.
Name(s)________________________________________________________________
Address_________________________________________________________________
Phone___________________________________________________________________
If you wish, please briefly describe your gift to the Saybrook Colony Legacy Guild. All information will be kept confidential.
Please print and mail to: Saybrook Colony Legacy Guild, Old Saybrook Historical Society, PO Box 4, Old Saybrook, CT 06475
Did you know the Old Saybrook Historical Society can accept donations from your IRA? 
If you are 70 1/2 or older, you may transfer any amount, up to $100,000, directly to the Old Saybrook Historical Society. This is referred to as a Qualified Charitable Distribution.
This gift could fulfill some or all your Required Minimum Distribution reducing your income and thus your Federal and Connecticut income taxes.  This is the perfect charitable gift for individuals who can't claim itemized deductions anymore because of recent tax law changes.
For more information please calls us at 860-395-1635 or email us at contact@saybrookhistory.org.
A replica by Theodore Alexander of a Louis XVI mahogany and brass mounted cylinder writing desk, the pierced brass galleried top above three drawers and the solid cylinder, the frieze with a kneehole flanked by two frieze drawers with dog's head handles, on turned and fluted tapering legs with brass cappings.  The original circa 1786.
The design based on a desk by Saunier's and suppled to Althorp by Daguerre of Paris through Henry Holland.
Original in Princess of Wales bedroom.
Donated by a direct descendent of Robert Chapman.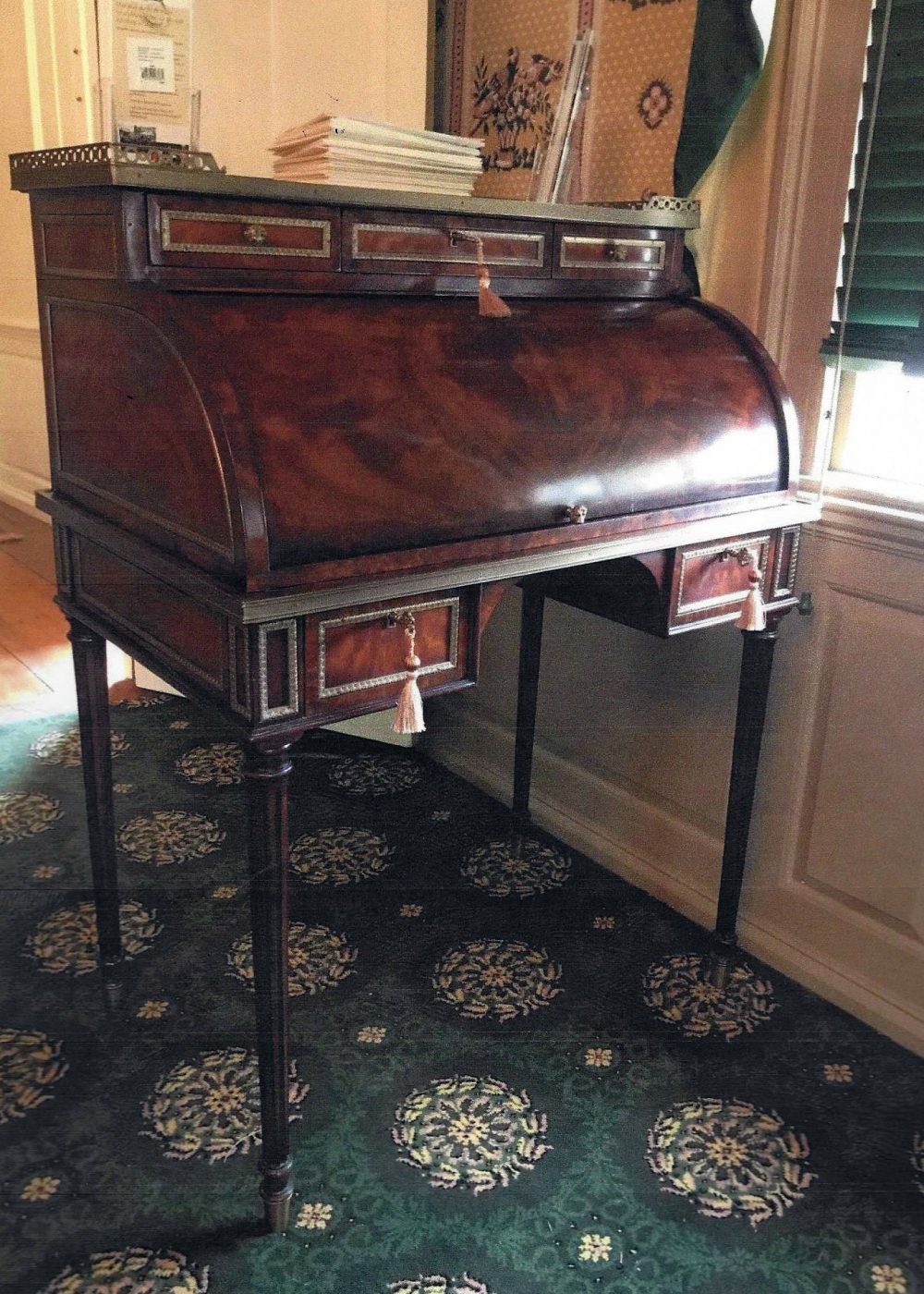 Amelia Hart Sheffield's 3-Drawer Mahogany Writing Desk
Amelia Hart Sheffield's 3-drawer Mahogany writing desk was purchased through the generosity of a direct descendant of Robert Chapman.  It is inscribed "Amelia Hart Sheffield, May 28 1824 Saybrook, Conn" (year she was married) and has all the original hardware.  One of the drawers has a writing surface.  The Society also has her portrait and father's writing desk.
From Georgia to Saybrook – Fourteen Hours and 200 Documents
It is surprising how far Saybrook documents and other materials travel over time and heartening how some eventually make their way home again.  And, the journey often begins with a phone call or email which is how the most recent example began.
Several months ago Historical Society president Marie McFarlin received an email from a women in Georgia asking if we would be interested in Saybrook documents.  Assuring the writer that we would, Ms. McFarlin asked for more information and, with the exchange of several emails over a period of several weeks, was informed that the writer possessed a large number of early 19th century documents.
It turns out that the writer and her husband were renovating the Mercer Spencer house in Woodstock, Georgia.  In the process of renovating the structure they were throwing out trash.  While in the attic above the garage, Carmen Kruger found some old newspapers, a 15' x 7' 45 star U.S. flag and an old small trunk.
Opening the trunk she was surprised to find dozens of old letters, deeds, wills, and photos which, along with the flag, were taken home.  They had no idea how they got there but were thankful that they did not just throw them out.
For the next several weeks Carmen and her husband Elliot struggled to read the old script and research the people who originally wrote or received the documents.
They saw that the material came from Saybrook and decided that they should be returned.  Responding to the request for more information, they prepared a list of more than 200 documents.  They also indicated that they would like to sell the entire collection to the Historical Society.
Unable to put a price on the collection and hesitant about sending it through the mail, the Krugers' made arrangements to bring the documents to Old Saybrook.  They arrived after a 14-hour train ride from Georgia and the following day brought the items to the Archives.
President Marie McFarlin, vice president Wayne Harms and members Tedd Levy reviewed the material and decided it would enrich our knowledge of Saybrook history and be a worthy addition to the Archives.  The entire collection of 200+ items was purchased through the generosity of a member who wishes to remain anonymous.
A sampling of documents recently obtained by the Historical Society:
In January 1842, George Pratt wrote to President John Tyler urging the reappointment of William Willard as surveyor and inspectors of the port of Saybrook.  Another term of four years, he wrote, "would be a convenience in the down hill road of life – especially with several young children."
Another letter supported the appointment of Catherine Whittlesey as keeper of the Lynde Point Light House, who would be a "most efficient and faithful Light House keeper."  She eventually got the job and was one of the early female light house keepers.
A small scrap of paper, dated April 1852, outlines an agreement with William Wood to instruct Samuel Pratt "in learning the piano forte for three years…at $50 per annum," a rather significant amount in the 1850s.
Several years later in 1866, Gilbert Pratt wrote a letter to his son Samuel saying "I am pleased to see you have ambition enough to try to do something, and be something.  It gratifies me very much."
He told young Samuel to  "Improve all your leisure time in reading & figures & writing – read good, sensible books & papers … avoid all bad company.  I think this is a good opportunity to begin business, and as you progress I will help you along….
"Have no confidants.  If you wish to say anything about your own affairs or your business, say it to me only, and if you require anything for your own need, ask me for it.  Write home once a week.  Take care of all your clothes, and don't spend your money for needless things…."
In an inventory associated with his will, William Hart leaves funds to the "Presbyterian Gospel" and "also gives to my said wife the services of Henrietta…eldest daughter of Rose, nine years old last March, until she become lawfully free, say to the age of twenty-one."
In a document dated September 23, 1846  the commissioners of the ferry write to Capt. Jedidiah Tyron, Jr. complaining about "the conditions and bad management of said Ferry, they have examined and inquired into the facts of the case, and do find just and reasonable cause of complaint.
Told to immediately produce larger & more convenient scow during the repairing of the present Horse Boat…. And the horses used are "wholly and entirely unfit for the business…Capt. Must procure two good and suitable horses for the business of said Ferry….and to have repairs & horse 'for the accommodation of the public within two days from the date hereof."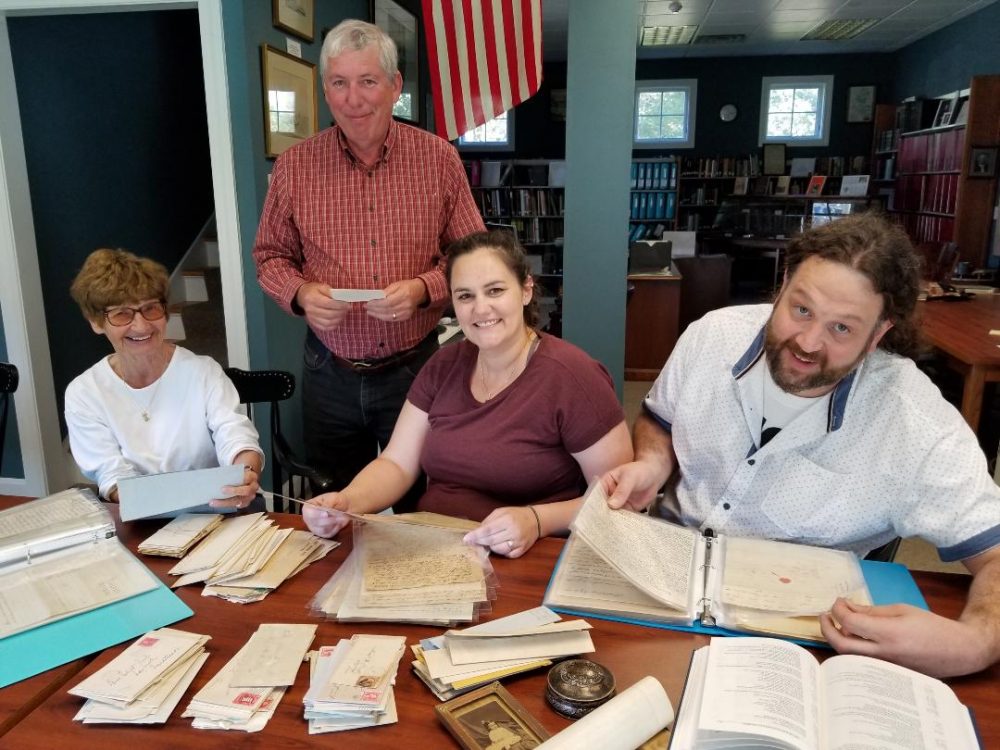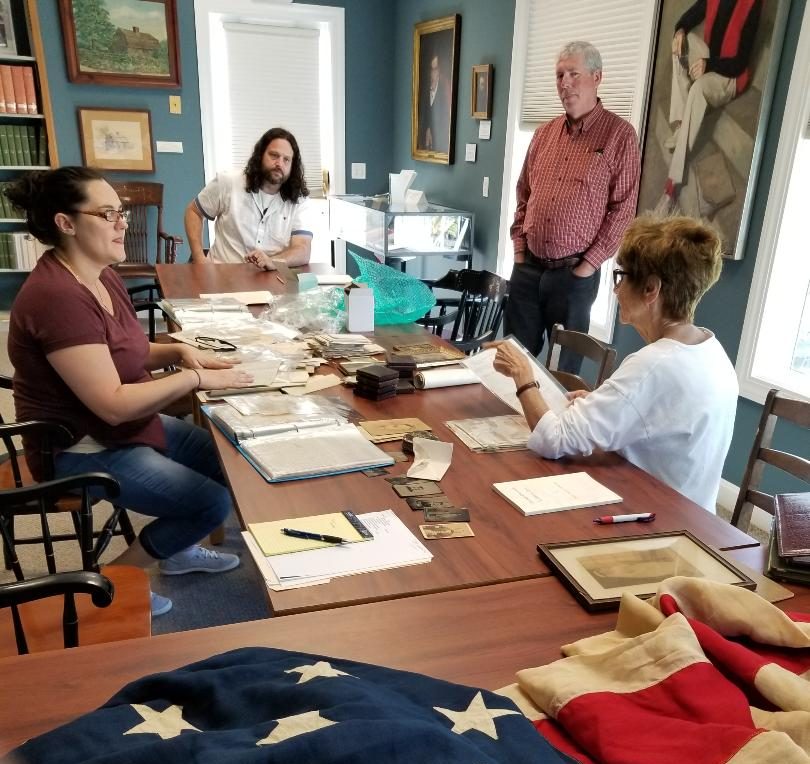 Presented to the Society from the Scoville Family Charitable Fund a Grant of $70,000 for the kitchen and half bath remodel/repair in the General William Hart House.  This charitable fund is devoted to organizations who contribute to the quality of life in Old Saybrook.  The Scoville family has strong ties to the town.  We are very grateful for this generous contribution.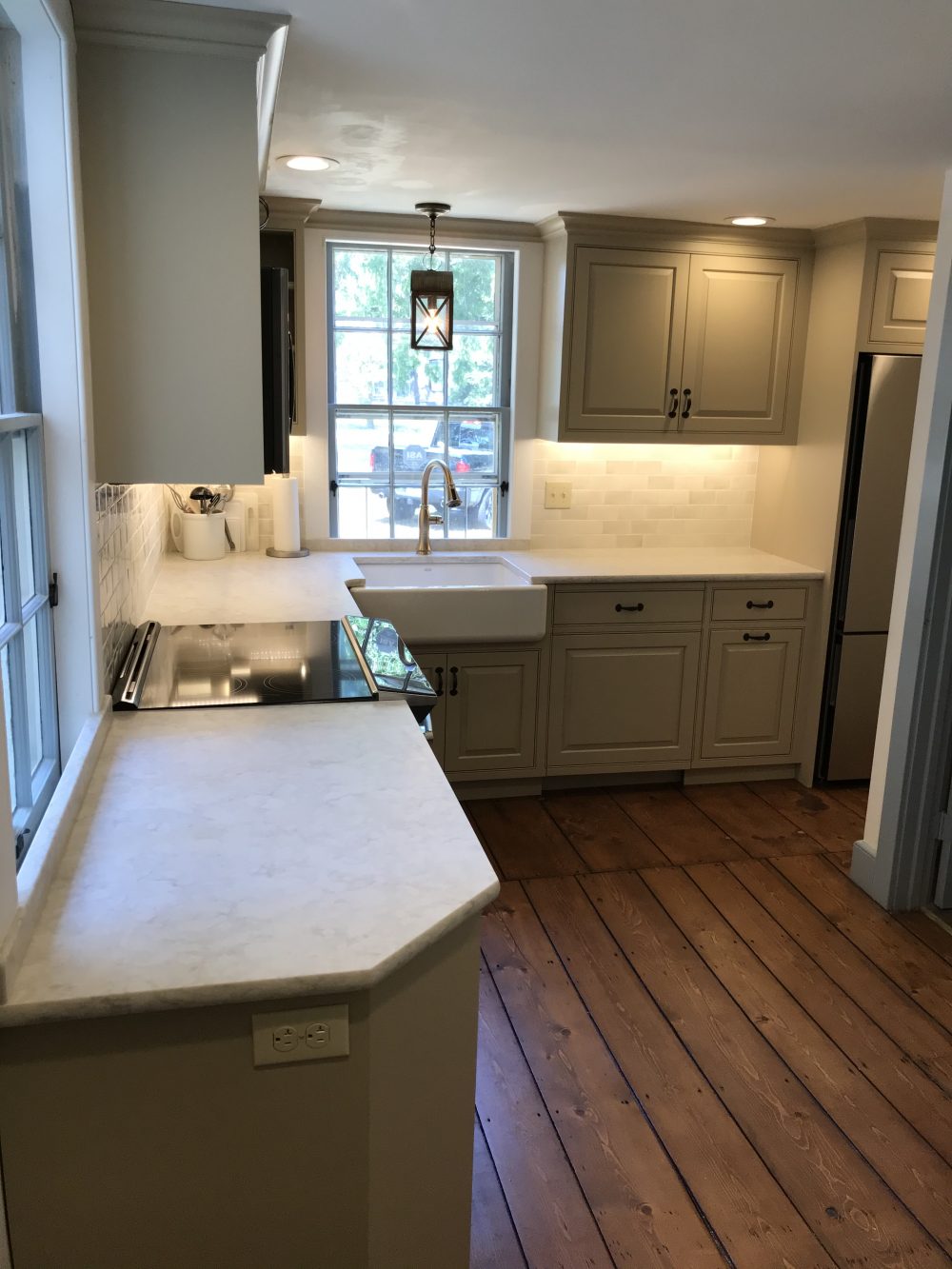 Historic Herbs at the Hart House Book
Donated by Elaine Yang – 2019 Senior Project at Old Saybrook High School.
It is a tribute to Bonnie Penders, a Society Volunteer Gardener and mentor to Elaine and to the commitment of the Society to its public gardens.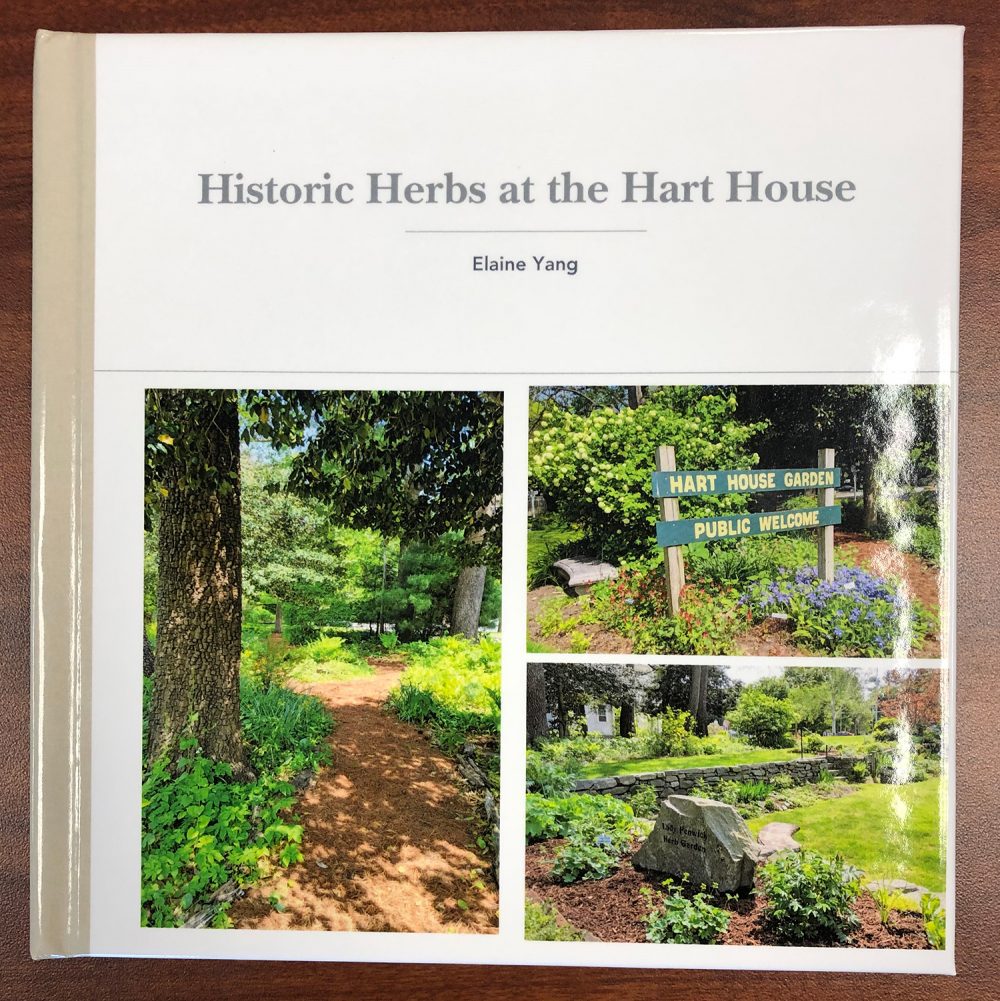 The original painting by Rufus Grider is in a "hidden collection" at the New York Historical Society in New York City.  The only copy was donated to the Society by Pamela Vittorio who purchased the rights to reproduce the image from the New York Historical Society.
The Oliver Graham 1777 powder horn is in our collection in the Hart House Winthrop Room annex
— Pamela Vittorio is an associate professor at the New School, historian, linguist, professional genealogist and direct descendant of Oliver Graham.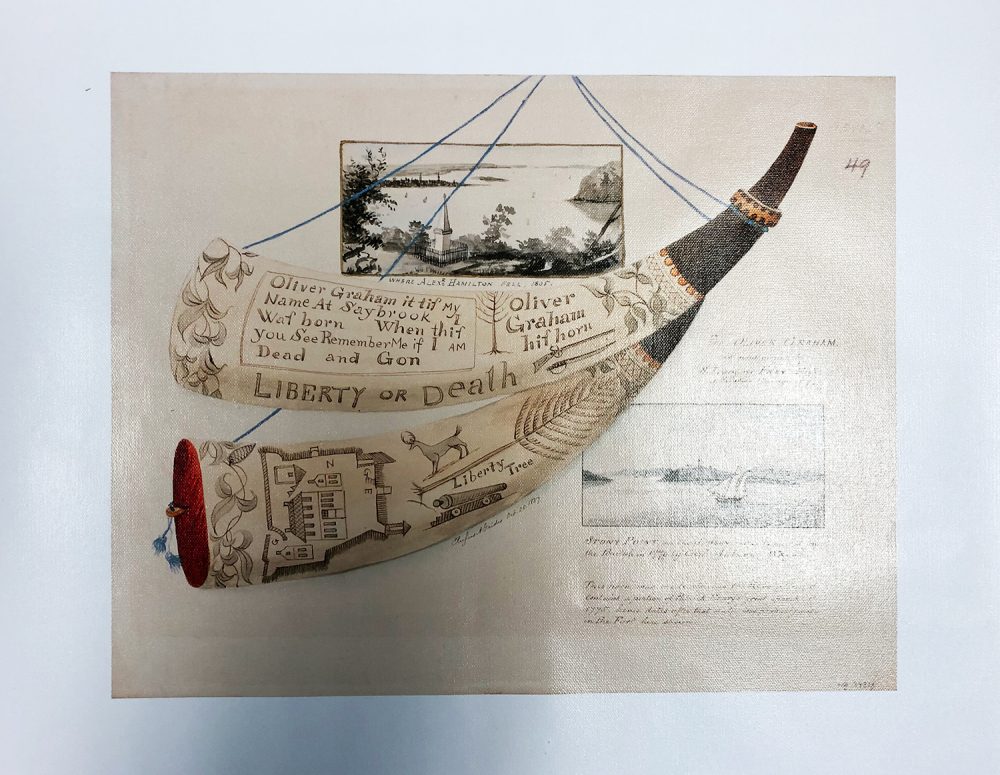 The Society is grateful to the following members for the $15,000 donations to complete the matching funds to apply for a 1772 Foundation Grant to restore all 32 windows in the Hart House:
Window Matching Grant enabled the Society to receive a $12,000 matching grant for Hart House window restoration from the 1772 Foundation working the Ct. Trust for Historic Preservation.  David and Marie McFarlin, Arlene and Steve Sakatos, Tedd and Carol Levy, Wayne and Barbara Harms, Sallie and Robert Boody, Sally and Sal D'Aquila, Ken and Aurelie Lewis, a Direct Descendant of Robert Chapman (who wishes to remain anonymous), Marge Anderson Legacy Funds, William E. Phillips and Barbara Smith, Linda Kinsella in memory of her husband George "Pete" Kinsella, friends and family of deceased member and volunteer Drinagh Garafulo.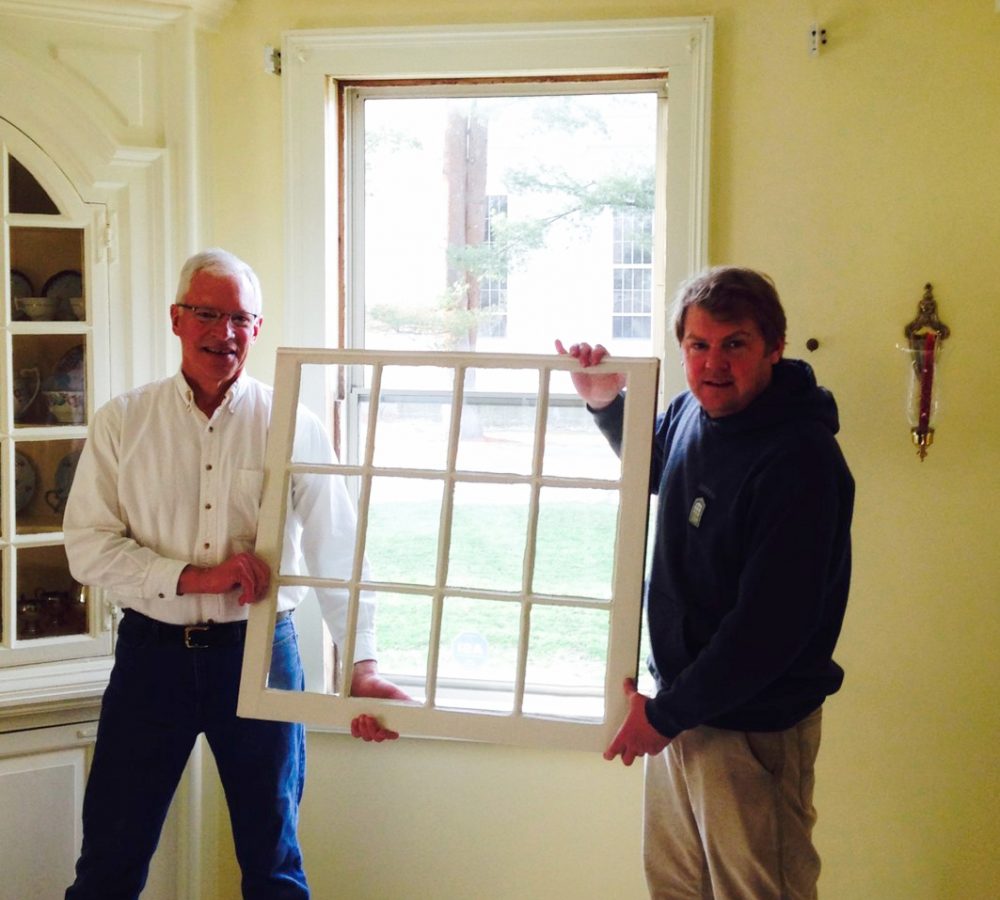 New shed courtesy of William Childress and a direct descendant of Robert Chapman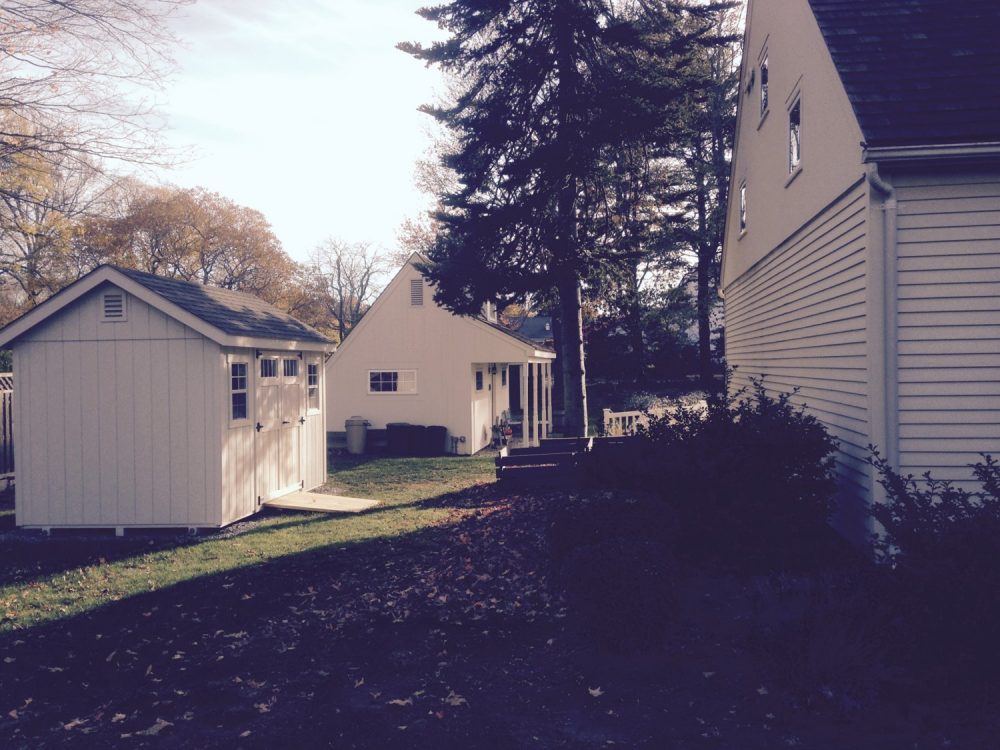 Portrait of Elisha Hart Younger Brother of General William Hart
Marek Sarba, the artist and Old Saybrook resident who painted the portrait of General William Hart (below) , also has painted a beautiful portrait of General Hart's younger brother, Elisha, that he has also donated to the Old Saybrook Historical Society.  The beautiful portrait is hung over the fireplace in the dining room of the Hart House.  Elisha was the father of the seven daughters renowned for their "beauty" and energy.  Elisha and his family lived next door to his parents, Reverend and Mrs. William Hart, near the properties now occupied by the St. John's Catholic Church and Rectory on Main Street.
Portrait of General William Hart
Marek Sarba, an artist and resident of Old Saybrook, at our annual meeting, presented a portrait of General William Hart that he painted for the Society. It was after his first visit to the Hart House this summer that he decided to research and use his talents to do this and gift to our organization. He traveled to the Wadsworth Atheneum to view the small locket that shows the only known likeness of William. His gift is a wonderful work of art. As he spoke to the members, he stressed the importance of history and his admiration for the work of the Society and all its volunteers. Marek's paintings are on display at Mystic Seaport's Maritime Gallery, the Historical Society of Maryland, Mariner's Museum in Newport News, VA, Merchant Marine Museum in Kings Point New, NY, Great Lakes Historical Society, etc. We are thrilled with this special gift.